The National Health and Nutrition Examination Survey found that between 2005-2010, the average American consumed 13% of daily calories from added sugar. World Health Organization guidelines recommend that adults limit their intake of added sugars and those found in honey and fruit juices to below 5% of total calories or approximately 6 teaspoons per day.
Research has linked excess sugar consumption to the epidemic of obesity, high blood pressure, diabetes, kidney disease and cardiovascular disease. Refined carbohydrates, which breaks down into sugar in the digestive tract, also contributes to the problem.
One simple way to cut down on empty calories from sugar and refined carbohydrates is to choose healthier snacks and cut out sweet drinks. See below for ideas and recipes for healthier sweet treats and savory snacks.
Sugar, Carbs & Weight Gain
When you eat foods high in sugar or refined carbohydrates, your blood sugar rises. Since sustained high blood sugar is dangerous, your pancreas produces the hormone insulin to promote the absorption of blood glucose into the cells.
Any sugar that is not quickly used as energy or stored in the muscles is stored in fat cells. As long as insulin is circulating, the fat cells remain essentially 'locked' and do not release fat for use as energy.
Most processed snack foods are high in refined carbohydrates, sugar or both. If you eat foods like corn chips, cookies or candy bars between meals, not only are you taking in empty calories, you're also ensuring that your insulin levels remain high.
This means that most of the calories you take in will be stored as fat and the fat already stored in your cells won't be burned off. Over time, especially when combined with a sedentary lifestyle, consuming processed snack foods can easily lead to weight gain.
Sugar, Carbs & Disease
A high intake of sugar and carbohydrates combined with low levels of activity can cause insulin levels to remain high over a prolonged period of time. When this happens, the cells become less sensitive to insulin, requiring ever higher levels of the hormone to absorb glucose.
Insulin resistance leads to pre-diabetes, where blood sugar levels are raised. Pre-diabetes can be reversed but if left untreated, it can eventually lead to type 2 diabetes, in which blood sugar levels become dangerously high.
Research has shown that increased carbohydrate and sugar consumption is associated with lower HDL 'good' cholesterol levels, higher triglyceride levels, and higher LDL 'bad' cholesterol levels. Studies have also shown that higher sugar intake results in raised blood pressure. High cholesterol and blood pressure are both risk factors for heart disease.
A 15-year study published in JAMA Internal Medicine investigated the link between sugar and heart disease. It found that US adults who took in 25% of their daily calories from added sugar were more than twice as likely to die from heart disease than those who got less than 10% of their calories from sugar. The odds of a participant dying from heart disease rose along with the percentage of sugar in their diet regardless of age, sex, physical activity level or body weight.
Tips for Healthy Snacking
Don't buy processed snack foods or keep them in your cupboard or desk drawer.
Do keep healthy snacks on hand to reach for when hunger and sugar cravings strikes.
If you often have cravings for specific types of unhealthy snacks, find low-sugar, low carb foods that will satisfy those cravings.
Choose snack foods that add nutrients to your diet, not just empty calories. For example, nuts are a good source of fiber and minerals, dairy products good source of calcium, berries are full of antioxidants, eggs are rich in protein and vitamins.
Quick Snack Ideas
Celery sticks or apples and peanut butter, almond butter or hummus
Half a tomato filled with tuna and organic mayonnaise
Organic cream cheese rolled into salmon slices
Fresh bell peppers and homemade guacamole
Unsweetened yogurt mixed with strawberries, blueberries or blackberries
1-2 teaspoons of raw organic honey over organic plain yogurt or greek yogurt
Organic trail mix
Organic air-popped popcorn lightly seasoned with freshly grounded peppercorns and himalayan salt
Low-fat cottage cheese or other cheeses with fresh fruits
Dark chocolate with at least 50-80% cocoa
Lightly salted edamame
Hard boiled eggs
Savory Snack Recipes
1. Spicy Mixed Nuts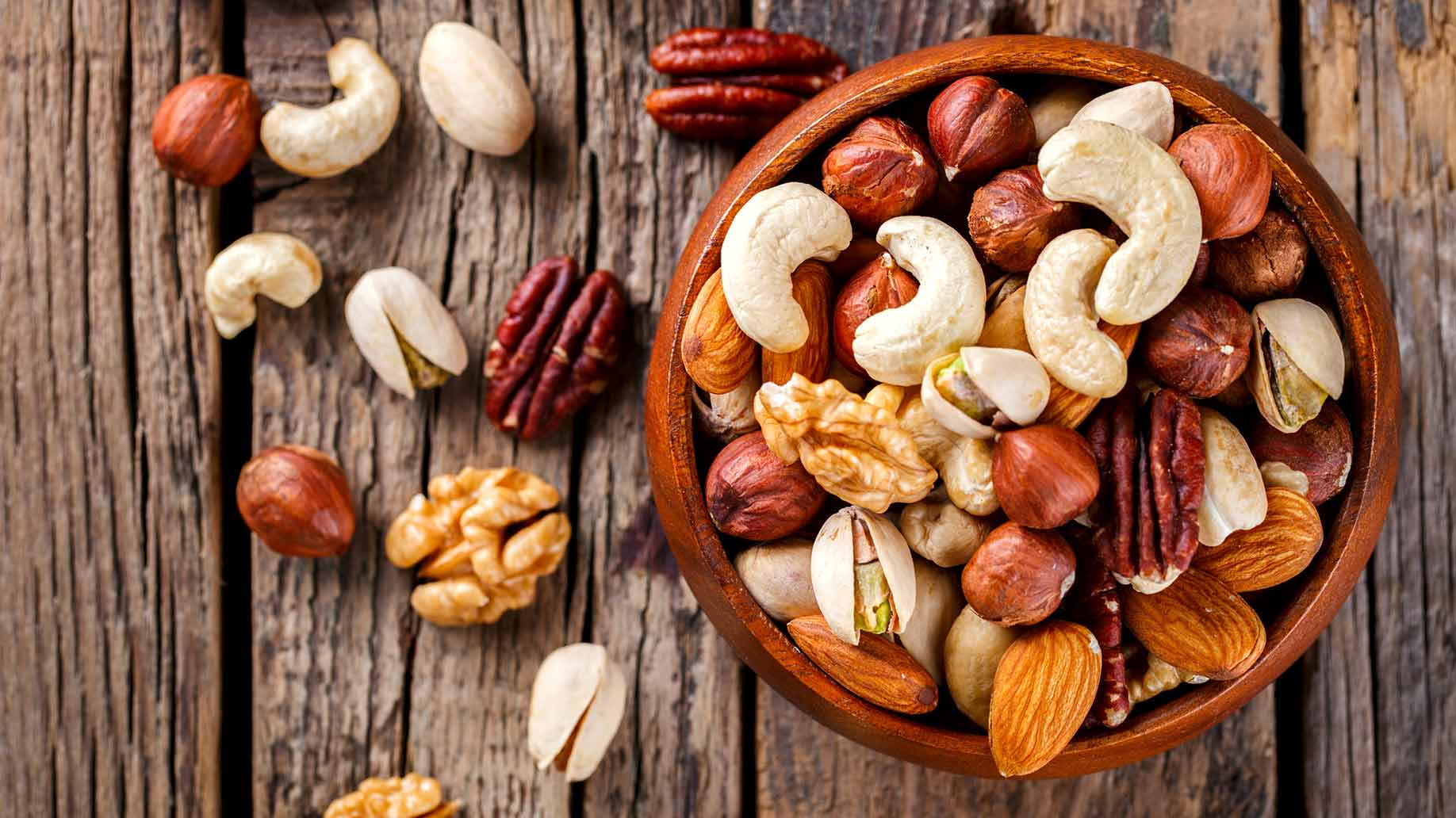 Ingredients:
3 cups of any combination of raw almonds, hazelnuts, pecans, walnuts or macadamia nuts
1 tablespoon melted coconut oil
1 teaspoon chili powder
1 teaspoon hot smoked paprika
1 teaspoon onion powder
1 teaspoon garlic powder
1 teaspoon salt
Method:
Line a baking tray with foil or use a silicon baking tray.
Preheat the oven to 350 F (180 C).
Mix the seasonings together in a small bowl.
Spread the nuts on the baking tray and pour the oil over and stir to coat.
Sprinkle the seasoning mix over the nuts and stir until they are evenly coated.
Bake for 6 minutes, then stir the nuts and rotate the pan.
Bake for another 6 minutes, then remove the pan and do a taste test. It should be toasted and crunchy. If still raw, return the pan to the oven for a couple of minutes and taste again.
When the nuts are done, allow them to cool, then transfer them to an airtight container.
Tips:
Nuts can quickly go from roasted to burnt, so keep an eye on the oven.
Experiment with different spice blends to create your favorite flavors.
2. Crudités with Crab Dip
Ingredients:
1 can shredded crab meat
2 cups non-fat Greek yogurt
1/2 cup fat-free of low-fat mayonnaise
sprinkle of Paprika
1/4 teaspoon of Worcestershire sauce
1 tablespoon of Old Bay seasoning
1 teaspoon of lemon juice
Your choice of low carb (non-root) vegetables such as celery, cucumber, mushrooms, peppers, broccoli, cauliflower or jicama
Method:
Cut the raw vegetables into batons or dipping-size pieces.
In a bowl, mix the Greek yogurt, mayonnaise, Worcestershire sauce, Old Bay seasoning, lemon juice, and paprika.
Drain the crab meat and mix into the dip.
Transfer the spread to a small bowl and serve with the crudités
Tips:
Spoon the spread onto cucumber slices, celery sticks or pepper halves.
You can also make this spread with baby shrimp.
3. Mini Stuffed Peppers
Ingredients:
12 mini bell peppers
1 cup of brown rice
2 cups of spinach
1 cup of marinara sauce
3/4 cups of low fat shredded mozzarella cheese
1/4 teaspoon garlic powder
1/8 teaspoon of sea salt
1/8 teaspoon of freshly grounded black pepper
Cayenne pepper (optional)
Method:
Cook brown rice.
Cut bell-peppers lengthwise and scoop out the core.
Preheat oven to 350 degrees F.
In a skillet, mix in rice, chopped spinach, marinara sauce, salt, pepper, cayenne pepper. Cook until spinach is fully cooked. Mix in mozzarella cheese and simmer until cheese is melted.
Stuff peppers with rice mix and top each pepper with a pinch of mozzarella cheese.
Place peppers on a baking tray lined with parchment paper.
Bake for 10 minutes or until peppers are soft.
Tips:
• You can add cooked chicken breast for some protein
• Try adding fresh herbs such as oregano, cilantro, thyme or basil
4. Roasted Brussels Sprouts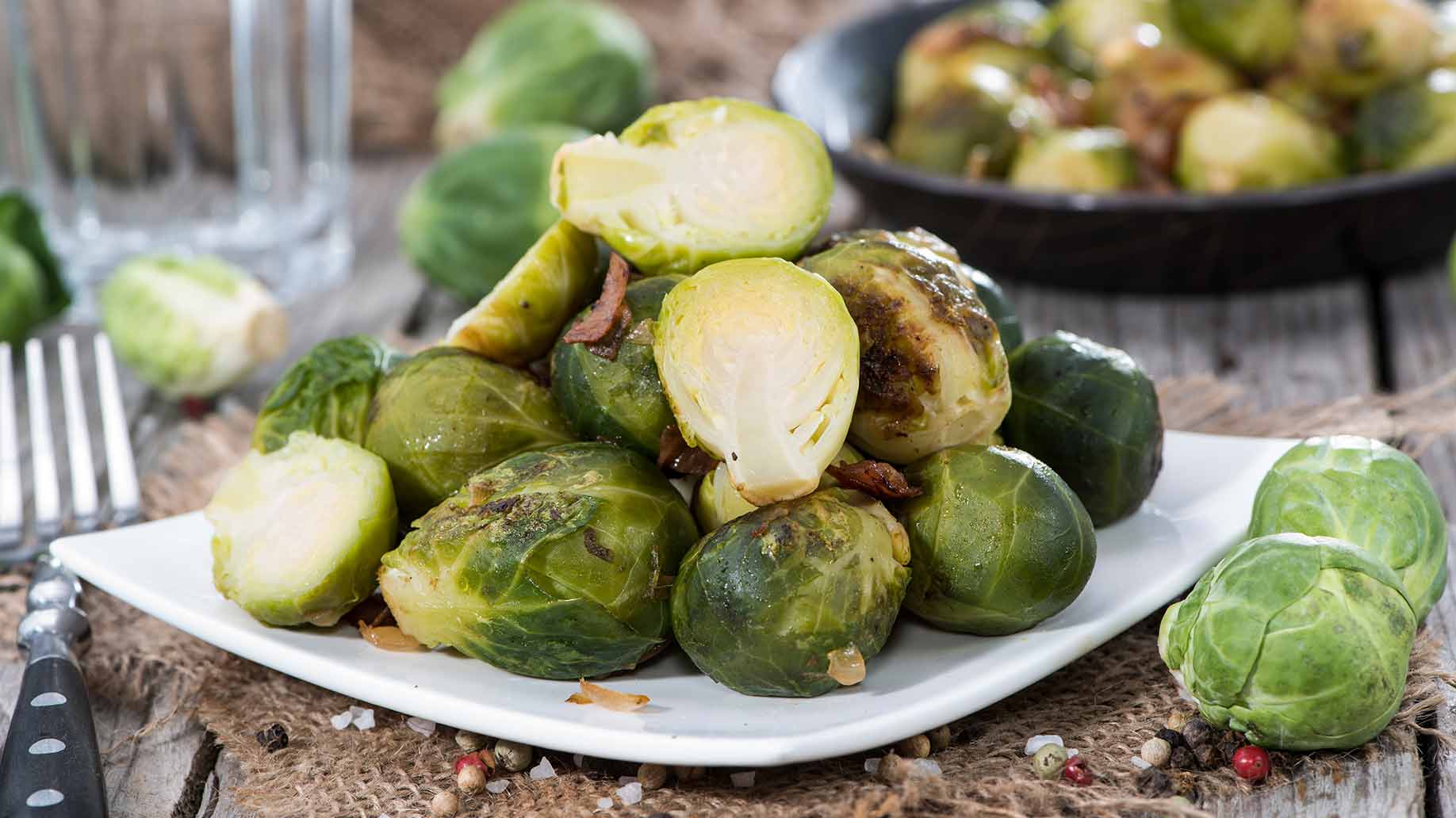 Ingredients:
2 dozen small brussels sprouts
3 tablespoons of extra virgin olive oil
1/2 teaspoon of salt
1/2 teaspoon of freshly grounded black pepper
Method:
Preheat oven to 400 degrees F.
Cut off ends of brussels sprouts, then cut each sprout in half.
In a bowl, mix all ingredients together.

Arrange in a single layer on a baking sheet lined with parchment paper, cut side down.

Bake for 40 minutes or until crispy.
Tips:
Try adding small bits of low-sodium and lean ham and sliced onions if you cannot handle brussels sprouts on its own
5. Roasted 
Kale

 Chips
Ingredients:
1 bunch of fresh 

kale

2 tablespoons of extra virgin olive oil
1/2 teaspoon of salt
1/2 teaspoon of freshly grounded black pepper
Method:
Preheat oven to 300 degrees F.
Cut off thick stems from 

kale

 and rip into bite size pieces.
In a bowl, mix all the ingredients together.
Arrange a single layer of the mixed 

kale

 onto a baking sheet lined with parchment paper.
Bake for 20 minutes or until crispy.
Tips:
Add some vegan cheese, turmeric or any of your favorite spices.
6. Roasted Cauliflower
Ingredients:
1 head of cauliflower
3 tablespoons of extra virgin olive oil
1/2 teaspoon of salt
1/2 teaspoon of freshly grounded black pepper
1 teaspoon of garlic powder
Method:
Preheat oven to 425 degrees F.
Cut the cauliflower into bite size pieces.

In a bowl, mix the cauliflower, salt, olive oil, black pepper and garlic powder together.

Arrange in a single layer onto a baking sheet lined with parchment paper and roast for 40 minutes or until cauliflower is tender.
7. Turkey Spinach Roll-ups 
Ingredients:
3 ounces of sliced deli turkey
1 cup of fresh baby spinach or basil leaves
2 teaspoons dried basil
2 teaspoons of honey mustard sauce
1 medium size sweet peppers
4 fat-free or low-fat string cheese
Salt and pepper to taste
Method:
Spread the honey mustard evenly over the turkey slices.
Divide the spinach or basil leaves evenly on each turkey slice.
Cut and deseed the sweet pepper into thin strips. Place the strips over the spinach or basil leaves.
Cut each string cheese into 4 strips, lengthwise and place on top of the peppers.
Roll up each turkey slice from the edge and cut in half.
Tips:
These can be prepared in advance and stored in an airtight container in the fridge for a convenient finger-food snack.
Use lettuce leaves instead of bread. Roll turkey into lettuce to make lettuce wraps.
8. Mini Quiches
Ingredients:
4 large eggs
3/4 cup of grated zucchini (packed)
3/4 cup of grated carrots (packed)
6 ounces of fresh baby spinach leaves, chopped
2 green shallots, finely chopped
1/3 cup of grated cheddar cheese (or any cheese)
2 teaspoons of your choice of  oil (coconut, olive, etc)
1/4 teaspoon of salt
Method:
Preheat oven to 350 degrees F.
Grease 2 mini cupcake pans (24 holes total).
In a skillet, cook grated zucchini, carrots and shallots until veggies are tender. Add in spinach and cook until greens are wilted. Remove from heat and let mix cool to room temperature.
In a bowl whisk the eggs, then add the room temperature cooked veggies, cheese, and salt.
Evenly distribute mix into muffin pan (making sure the egg is evenly distributed).
Bake for 16-18 minutes or until top slightly browns. Allow the mini quiches to cool down before removing them from the tin.
Tips:
You can use any sort of grated hard cheese in these and any ingredients you would commonly find in quiche such as cooked and chopped ham, turkey sausage, mushrooms or broccoli.
The quiches can be kept in the refrigerator and eaten cold or reheated.
9. Zucchini Chips
Ingredients:
1 large zucchini
1 tablespoon olive oil
Method:
Preheat the oven to 375 degrees F.
Cut the zucchini into thin, round slices using a mandolin or a food processor with a slicing attachment.
Spread out the slices on a plate and sprinkle them with salt. Leave the zucchini slices for 10 minutes while the salt works its way in to draw out excess moisture.
Blot the zucchini slices with paper towels to absorb the excess liquid.
Put the zucchini in a bowl with the olive oil and toss to coat.
Spread the slices on a parchment-lined metal tray.
Roast for 10 minutes or until golden brown on top, then flip with a spatula.
Roast for another 10 minutes or so, until crispy.
Tips:
Cooking time will vary depending on the thickness of the slices. Be sure the zucchini is evenly sliced and keep checking the oven to avoid burning.
Sweet Treat Recipes
10. Blueberry Muffins
Ingredients:
1 ⅓ cups plain yogurt
3 ½ cups ground almonds (or almond flour)
6 medium eggs
½ cup fresh or defrosted blueberries
4 tablespoons of unsweetened applesauce
2 tablespoons stevia granulated sweetener
2 teaspoons baking powder
2 teaspoons vanilla extract
Method:
Preheat the oven to 350 degrees F.
Line a muffin tray with paper cups.
Put the yogurt, eggs, butter, applesauce and vanilla into a mixing jug and blend with an electric mixer.
Then add the stevia, baking powder, and almonds and mix until smooth.
Fold in the blueberries.
Pour equal amounts into each muffin cup.
Bake for approximately 20 minutes or until golden brown.
Tips:
This basic muffin recipe will also work with raspberries or chopped nuts.
You can replace all the butter for unsweetened applesauce (1:1 ratio), if you don't mind a denser and more moist muffin.
The muffins can be refrigerated in an airtight container for a convenient breakfast or snack.
11. Chocolate Mug Cake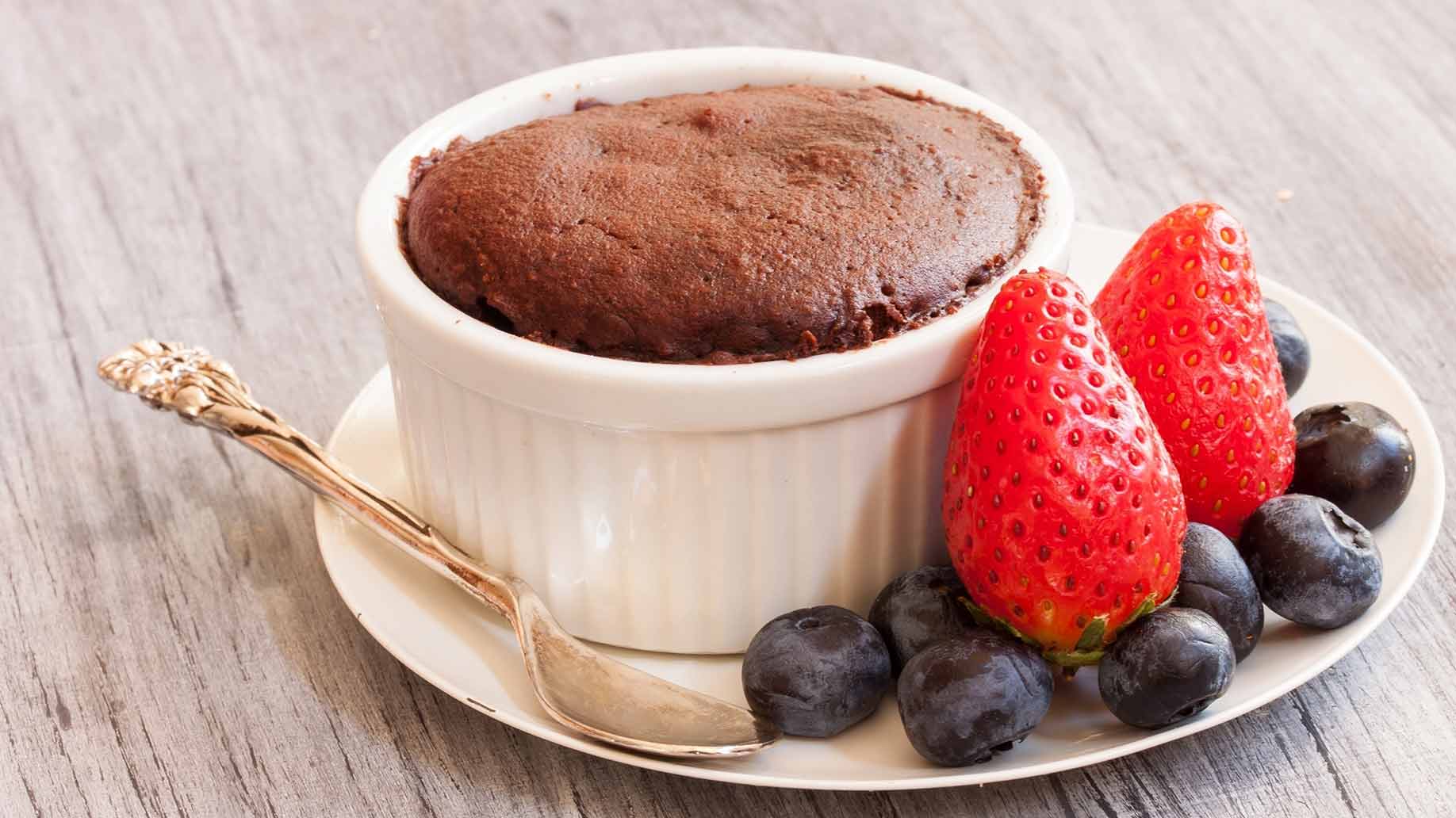 Ingredients:
2 tablespoons coconut flour
1 tablespoons stevia granulated sweetener
2 teaspoons unsweetened cocoa powder (or 1 tablespoon for a darker and richer taste)
1 teaspoon coconut oil
2 tablespoons unsweetened almond milk (or 2 1/2 tablespoons if using 1 tablespoon of cocoa powder)
1/8 teaspoon pure vanilla extract
¼ teaspoon baking powder
pinch of salt
Method:
In a large bowl, whisk together the milk, coconut oil and vanilla.
Then whisk in flour, sweetener, cocoa powder, baking powder, salt.
Pour into a large coffee mug that has been sprayed with cooking oil spray.
Microwave for approximately 40 seconds, on high. If it is still a little underdone, cook for another 10 seconds. The cake will continue to cook once it is removed from the microwave.
Tips:
The exact cooking time will depend on your microwave and your preferences.
Try adding nuts, coconut or peanut butter.
For an oven-baked version – preheat oven to 350 degrees F. Spray a 1/2 cup ramekin with cooking oil spray. Cook for around 15 minutes. Toothpick should come out clean. For a more moist cake, cook for about 11 minutes. Toothpick should come out slightly dirty (not with a lot of cake batter).
12. Cinnamon Pecan Breakfast Bars
Ingredients:
1¼ cup almond flour
3 tablespoons coconut flour
1 room-temperature egg
½ cup stevia granulated sweetener
½ cup roughly chopped pecans
¼ cup unsweetened applesauce
1½ teaspoons cinnamon
1 teaspoon vanilla extract
½ teaspoon baking soda
½ teaspoon salt
Method:
Preheat the oven to 350 F (180 C).
Using an electric mixer, cream together the applesauce and stevia. Add the egg and vanilla and mix until smooth.
Add the almond flour, coconut flour, cinnamon, salt and baking soda and mix to thoroughly combine.
Using a wooden spoon, stir in the chopped pecans.
Spread the mixture into a square or rectangular silicon baking dish or a buttered glass baking dish.
Bake for approximately 12-15 minutes until golden.
Allow to cool for 5 minutes before cutting into bars.
Tip: These are best served warm, but are still good when stored in the refrigerator and eaten cold.
Final Word
Eating a variety of healthy homemade snacks is a natural way to increase your intake of vitamins, minerals, protein, healthy fats, fiber and antioxidants. However, if you need to watch your weight, be careful with portion sizes. Eat just enough to satisfy your hunger and keep you going until the next meal.